If there is anything a website shouldn't be, it's bland. We have the eye for website design, and the talent to incorporate what you want, in combination with the elements that make for a comprehensive, integrated solution to your web communication needs.
Fees for all new website design services are $450.00 for the initial design of your site layout (one page, usually your home page). We will create sample layouts for you to review and keep going until we get it just right!
Each additional page based on the original template will be $35 per page.  The definition of a page in this case is one (1) HTML/PHP file.
Example: A five page site will cost $590.00.
E-commerce enabled sites will be charged $35 per hour for shopping cart set-up, above and beyond the site design fees.
Non-profit organizations (churches, church groups, youth groups, charitable organizations, etc) are charged 1/2 price for each site – $225.00 for home page layout and $18 for each additional page. To fall into this category you must qualify for exemption from federal corporate income taxes under Sections 501(c)(3), 501(c)(4), or 501(c)(7) of the Internal Revenue Code.
Minor updates for a new site (link additions, minor text additions/changes) are done at no additional charge for one month after official launch date. Maintenance after one month will be billed at $35.00 per hour or a flat monthly fee (Request a free quote online). Major changes (page or site redesign, page additions) after the initial three months will be charged based on the job to be done – page additions based on the original template will be charged at the $35 per page price; a complete site redesign will be charged based on the new site design fees. Prices are subject to change without notice, however the price in affect at the time of your contract will remain the same.
Fully Responsive Website Design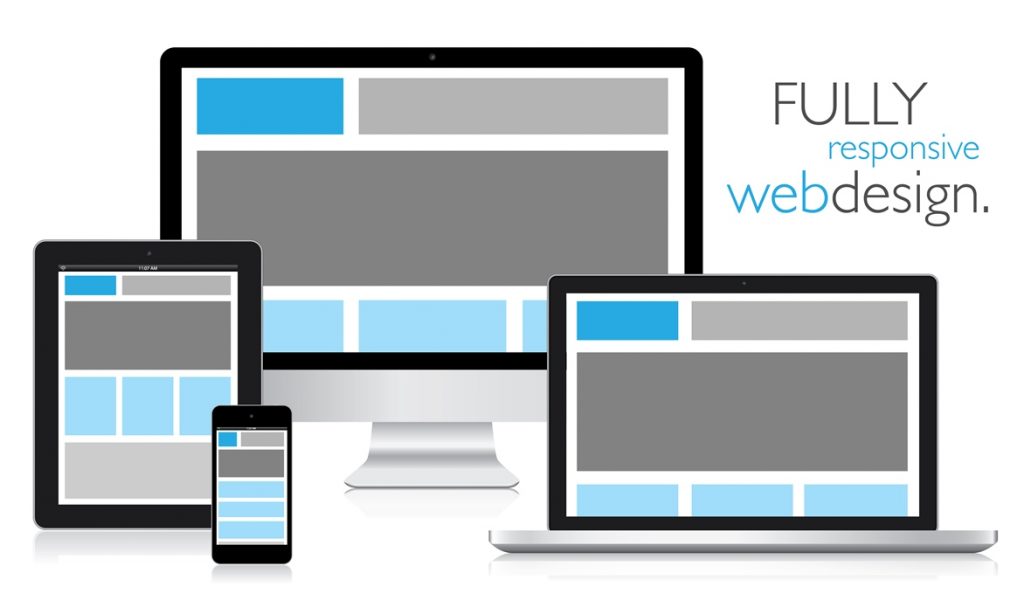 All paid sites include:
one home page layout web design for $450; $225.00 for non-profit organizations
additional pages for $35 each, $18.00 each for non-profit organizations
one month of free maintenance from official launch date*
a favorites icon
submission to search engines/industry directories
use of your own logo, images and/or custom graphics
unlimited text  provided electronically
upload site files to our server
assistance with domain name registration
Website design prices do not include fees charged by your ISP, hosting fees, domain name registration, additional scripting, software, outside services, images etc. that may be necessary to purchase above and beyond the design. These fees are the responsibility the Client.
A deposit of $200 and a signed contract are required for any work to commence. Request a contract free quote online.
Site Maintenance and Website Design Services
Even if we did not originally create your site for you, we can help you keep it up to date while you concentrate on running your business. Maintenance rates are $35 per hour, billed to the nearest quarter hour, invoiced monthly.
Complete site redesign services are charged at the same rate of a new site.
SSL Will Boost Your Google Ranking
Slick Boston Solutions can secure your website traffic (https) and so improve your search engine rankings with an SSL certificates for only $55.00/year.
In a few years (or hopefully much sooner), EVERY website will be secured through SSL and that's a very good thing. So if you're not moving to HTTPS now, you're going to get left behind fast.
Here are 4 quick compelling reasons to move your website to HTTPS:
SECURITY — SSL protects your website's data and visitors. It encrypts data transferred over the web, like form submissions and credit card transactions.
SEO — Google says it's past time to move your sites over to HTTPS. They are now giving an SEO ranking boost to secure sites. Simply put, you'll rank better in SEO.
ECOMMERCE —If you're taking any payments on your website, SSL is non-negotiable. SSL is an absolute must for ecommerce and membership websites.
AFFORDABILITY — In the past, SSL certificates could get expensive, but the rapidly transforming web landscape has made switching to SSL practical and affordable.
But here's the deal …. most of you don't know where to start and how to do it without messing things up. We are here to help!
Save
Save
Save
Save
Save
Save
Save
Save