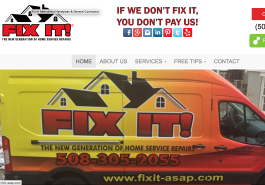 Fix It!® was founded with one main goal, to bring outstanding quality and service to your home projects. With over 20 years of experience delivering quality workmanship in the remodeling business.
Fix It!® isn't just about repairing what's broken, but to add value to what we do for each customer need, and assure them we are always there when they need us the most. We stand behind every job. We never walk away from a job; we look for solutions.
Each project we undertake is unique and requires special attention. By working closely with you, we gain a complete understanding of your goals and expectations and then not only meet them but exceed them!
Most home repair companies charge by the hour. With Fix It!®, the job is initially assessed and the customer is provided with a up front price, so the total cost is known up front. There are no hidden expenses.
Adding value, trust and making a difference by what we do is our paramount at Fix It!®.