Glass & Mirror, Inc.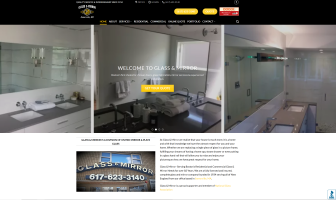 At Glass & Mirror we realize that your house is much more, it is a home and with that knowledge we have the utmost respect for you and your home. Whether we are replacing a single piece of glass in a picture frame, fulfilling your dreams of having a home spa, steam shower or even putting in a glass hand rail that will allow you to relax and enjoy your picturesque view, we have great respect for your home.
Glass & Mirror- Serving Boston's Residential and Commercial Glass & Mirror Needs for over 82 Years. We are a fully licensed and insured, complete glass and mirror company founded in 1934 serving all of New England from our office based in Somerville, MA.