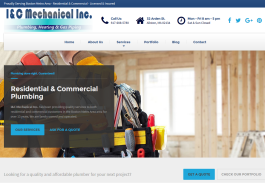 PLUMBING, HEATING AND GAS PIPING SERVICES

I&C Mechanical Inc. was established in 2003, and ever since we have been dedicated to serve our customers with great value and cutting-edge technology at reasonable prices.
We offer a variety of services from new construction installations of the numerous products and systems we can offer to maintenance, repairs and upgrades to your home or business.
Our priority is to get you the lowest energy consuming system available on the market today!