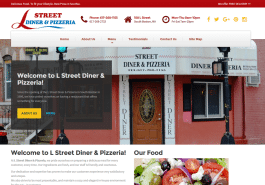 Since the opening of the L Street Diner & Pizzeria in South Boston in 1996, we have prided ourselves on having a restaurant that offers something for everyone.
By combining a unique menu and wide array of fresh ingredients with a cool, modern décor, we have been able to bring together a contemporary atmosphere with old world Italy.
We share a love of great food and the dedication to bring it to everybody that comes through the door.
The goal of L Street Diner & Pizzeria is to add some variety to the Boston "eating out" experience.
www.LStreetDinerAndPizzeria.com
L Street Diner & Pizzeria