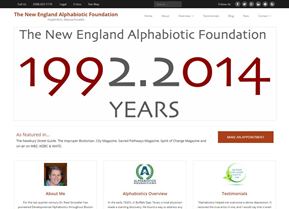 The New England Alphabiotic Foundation.
Brain Stress Release. Alphabiotics, broadly stated, helps members to better deal with stress and has as it's primary focus a practical means to address the internalized fight-or-flight stress response which is a low level state of alarm or shock.
Dr. Neal Smookler has been practicing Alphabiotics for twenty one years. He has held certification from Alphabiotics International since 1992.
http://www.alphabioticsonline.com/
The New England Alphabiotic Foundation